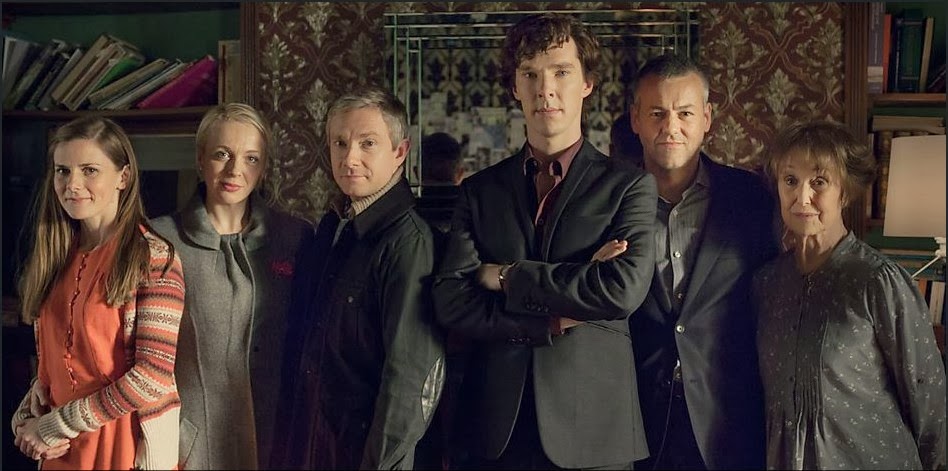 The cast:  Louise Brealey (Molly Hooper), Amanda Abbington (Mary Morstan), Martin Freeman (John Watson), Benedict Cumberbatch (Sherlock Holmes), Rupert Graves (DI Greg Lestrade), Una Stubbs (Mrs. Hudson). Screenshot:pb/BBC One
Who cares about Christmas when there is a new Sherlock series ahead? And so Christmas maybe wasn't entirely cancelled but the real and big gift came on New Year's Day when "The Empty Hearse" finally aired on BBC One in the United Kingdom. It set an end to two years of waiting and wondering how Sherlock survived his fall off the rooftop of St Bart's, well maybe not really. But this first episode of the third series was epic, thrilling and to say it at least: It was the best Sherlock we ever had on telly.
"Short version: Not dead."
That Sherlock survived his fall, even listened to John's heartbreaking speech at the grave, was evident from the last scene of "The Reichenbach Fall" that brought the fandom to its knees, set the path for endless discussion of how he did it and how John will react when the reunification finally would take place. That this modern John would not simply swoon, recover, forgive and start his old life with the back from the grave Sherlock Holmes again as Sir Arthur Conan Doyle described it in his books, was clear after all what Sherlock and John had been through and how these characters have been unfolding till now. Both authors, Steven Moffat and Mark Gatiss, made that perfectly clear in various interviews.
The work of a genius
But Mark Gatiss' version is simply the work of a genius. "The Empty Hearse" has a lot of "more": more action, more funny scenes, more funny dialogues and a whole bunch of reverences which are not less than an bow to the deeply loyal fans spreading their love on the internet. How John and Sherlock finally meet again, how they slowly and carefully restore their friendship is heartwarming and heartbreaking at the same time and it is not done in an instant.
Benedict Cumberbatch and Martin Freeman prove with their Sherlock and John again that they are brilliant actors able to change expressions within a wink of an eye. We see and breathe that they both do love performing these specific roles and characters and that they had at least the same fun making "Sherlock" as the public watching it. And it is a relieve from the fandom side of view that they –  despite now being household names all over the world – do love this modern Sherlock Holmes so much that they manage to squeeze it into their schedules.
A very special love affair
"Sherlock" seems to be a very special love affair for all of the actors: Mark Gatiss' Mycroft Holmes is more sarcastic and sophisticated than ever (and of course he is the best dressed employee of Her Majesty). Una Stubbs gives her Mrs Hudson ("Landlady, dear, not the housekeeper!") all the feels from anger to sadness to overwhelming joy seeing her boys finally together again. Rupert Graves as DI Greg Lestrade and Jonathan Aris as Philipp Anderson got Sherlock back – and somehow the centre of their lives though Anderson has a new special love. Molly Hooper (lovely: Louise Brealey) always has been a trusted friend of Sherlock's – finally this is made quite clear.
A newbie to the Sherlock family is Mary Mostan, John Watson's new love, gorgeously played by Amanda Abbington who brings her Mary to life with a lot of dry humour and fun. You trust her being a true and lovely woman for John, helping him getting over the grief Sherlock's disappearance brought him. It surely will be a delight watching more Mary-John-Sherlock-scenes.
The next episode "The Sign of Three" will be aired on Sunday on BBC One.
You may find the German version of this blog entry here.