It doesn't sound that much: twenty minutes a day for playing the piano. But it becomes a real struggle to sit down every morning and try to learn Chopin's Ballade No. 1 within a year and perform it in front of an audience when you are Alan Rusbridger, then editor in chief of the Guardian at a time when news seem to be breaking for weeks on end.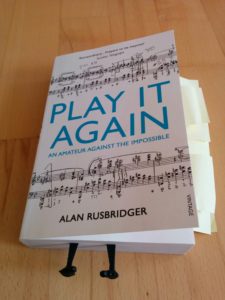 But he manages to squeeze practising the piano into his incredible schedule most of the time even when there are such topics as the publishing of the WikiLeaks files and the hacking scandal of "News of the World" that hit every news all over the world, and everything in between from meetings and conferences to editing a newspaper with working days that end in the early hours of the next day. So what seems to be insane is in fact very healthy for the brain and the body as a whole because while playing the piano, the brain has to concentrate on the very moment, the keyboard, the fingers, the notes so that everything else is shut out. "With other people it's yoga, or a run or a burst in the gym. Twenty minutes on the piano have the same effect for me," writes Alan – twenty minutes as a preparation for another stressful day.
"I gave fifteen reasons why Twitter is such an astonishing medium for journalists (…) and why senior executives in media companies who don't 'get it' shouldn't be in a job."
So "Play it again" is of course a book about music, about learning to play a piece with a lot of specific terms that sound like a foreign language for ignorants like myself but this isn't a reason to stop reading because  the moment you start the book you are hooked by the story that is just wonderfully written, full of inside views of Rusbridger's work, his views and how he comes to term with them but without any arrogance others might have shown when learning that "News of the World" is about to be shut down: "It's one of the most dramatic moments I can remember as an editor. (…) It's a hold-the-front-page, stop-the-presses, stop-the clocks, stop-everything scoop. The history of newspapers has just been rewritten."
"Should I ever make a book out of my endeavour with the Ballade, I resolve, I've at least got the title: 'Play it again'. (…) The journalist in me also likes the fact that it's a misquote. Bogart never said it."
And  "Play it again" is also about Rusbridger's struggle with the music, his doubts about his abilities to get the notes right or remember them at all and it is an inspiration for those of us who always want to go for a run, a swim or just reading a book instead of being bored by telly. They can do it. We all can.
Alan Rusbridger: Play it again  – An amateur against the impossible, Vintage Books, £10,99
Deutsch: Play it again – Ein Jahr zwischen Noten und Nachrichten, Secession-Verlag, 25 Euro.