… and the original Cover of
Time Magazine Oct 28th 2013
What is it calling yourself a fan of a famous person, say an actor, say Benedict Cumberbatch? Fans will know what I mean and nod in agreement while reading on. If you are not a fan of him, you will waste your time with these lines (please feel free to scroll down my other blog  entries anyway).
If you are Benedict Cumberbatch you may get a very faint impression of the fandom you rule so gently. (If you really are Benedict, please contact me. I'll take the evidence that a journalist do know that your fans are the Cumbercollective and may ask intelligent questions.)
"Cumberbatch is (…) as unique
as his name."
First there is this special moment when you realize that this person has something, well, special. Something you can't explain. In case of Benedict many of his now devoted fans confess that it wasn't love on first sight. Because Mr. Cumberbatch doesn't look like a man you would easily describe as beautiful or lovely. With his face that is somehow oddly angular, his distinctive cheekbones and his auburn curled hair, he doesn't fit any normal pattern. But if you get hooked by any of the characters he plays – probably BBC's Sherlock – you will find that he is a very special person. As an actor he's able to cry on the spot, change the expression of the figure he impersonates within the wink of an eye (Do watch "The Blind Banker" scene when Sherlock and John are in Seb's office. And this guy says that they hated Sherlock at the university.) "Cumberbatch is the latest British sensation in Hollywood — an actor of scrupulous intelligence and a fragile, shape-shifting presence as unique as his name", writes csmonitor and puts two sides of a coin together.http://www.youtube.com/watch?v=DQZEAUpHGn0
Since Benedict Cumberbatch first played Sherlock back in 2010 he has become a household name not only in Britain. It got him the attention of Hollywood who in the shape of director JJ Abrams hired him as the baddie for his latest film "Star Trek: Into Darkness". He saw Benedict Cumberbatch and despite the fact that Star Trek fans wouldn't agree with his decision, Abrams thought that he was right "because he was so damn good."
Cumberbatch's fans obviously not only know that he is a brilliant actor who literally gets under the skin of every figure he plays and reads every available snippet helping him to understand the character. They adore Benedict because – after all the fame and all the success he now has as an actor who can easily decide which role to take – he's still that guy you may meet at a bookstore or on London's tube (which is known because fans spread the news on twitter) and who is always astonished that people gather at the set of "Sherlock". Here they wait patiently for him to come along, politely signing autographs, chatting with his fans and taking pics with them. Pics that will instantly flood the internet and being discussed in every possible detail.

Found on Twitter.
Although Benedict once in a while confirms that he is not on any of the social networks, he nevertheless rules the internet (You of course know that he chatted with fans on a AMA on reddit – you find my transcipt here. But this is a rare moment). The worldwide fandom stays in touch on the internet as a place to meet and share it's love. Being part of the Cumbercollective is much more than giggling, crying and fangirling around. Women who are confessed fans (rumours say that there are also men around) are intelligent, self-assured, manage their lives and have much wider interests. Interests that are also inspired by Benedict who nourishes countless blogs that only exist because of him, inspires his fans drawing (well not only) and writing about him (as you see in this blog), and creating such lovely things like these Cumbercupcakes within a breathtaking short amount of time. His fans watch over him like a Gentle Giant eager to have his back when needed, giving money for charity as a birthday gift, funding the film "Little Favour" created by his company Sunny March. They follow his preparations for his roles by reading Arthur Conan Doyles' original Sherlock Holmes' stories, learning about Alan Turing (who Benedict is about to personate in a new film), Salomon Northup's life he wrote down as "12 Years a Slave" and about Wikileaks in "The Fifth Estate".
While Benedict Cumberbatch is more busy than any bee possibly can be, the Cumbercollective tries to keep pace with his activities which is not always easy especially in this year which truly is the Year of The Cumberbatch.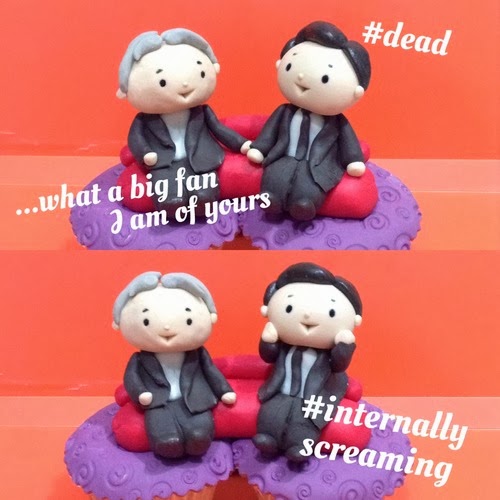 Harrison Ford and Benedict Cumberbatch
at the Graham Norton Show
If part of this article sound weird this is due to the fact that I'm no native speaker, so don't be too harsh.
Feel free to share this blog entry but please quote and link properly.