Time travelling isn't a new topic neither in films nor in literature. It seems that people have always been fascinated by stories about travelling back into history to meet people from the past and forward in time to get a glimpse of a possible future. BBC's  "Doctor Who" has everything people expect from a telly series covering that topic: an age old time traveller who knows not only how to handle humans but also past, present and the future – not to mention all sorts of aliens.
"My mother died a very long time ago. I, on the other hand, did not."
Matt Haig's new book "How to Stop Time" comes without aliens, or strange tech gadgets but with a man who ages in slow motion. Tom Hazard may look like a 40 year old guy. But he has outlived centuries before he hits modern day London – and he hasn't lost his memory. That's why he not only remembers ancient times and places like Shakespeare's London (and the great playwright himself). He also has to cope with serious headaches indicating that his brain, like a hard drive, is about to reach its maximum capacity. Teaching history at a school in London, Tom uses his first-hand-knowledge to bring history to life for his pupils without revealing his true identity. But the past is always with him.
"How to Stop Time" is an intense story that hooks the reader from the very beginning not because it is breathtakingly fast and action packed but because it is calm and lacks all sorts of excitement in a very fascinating way.  Matt Haig's newest novel is one to loose yourself in  – which is the best you can say of any book.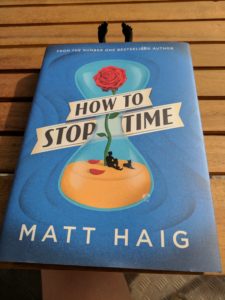 Matt Haig: How to Stop Time, Canongate, 15 €/13 £.
The book will be adapted for film by Sunny March with Benedict Cumberbatch taking the lead role.
Die deutsche Ausgabe wird 2018 im dtv erscheinen.